Portal: Prelude wins third place at ModDB's MoTY
Posted by Nicolas (permalink)
Ok, that's right, it's a kind of big surprise. After 114,000 votes, Portal: Prelude didn't win the ModDB's Mod of the Year Awards, but made it to the third place! Surprinsigly enough, we also managed to beat the most acclaimed mods of 2008, including nearly every mod that got into Steam during the year.
Project Reality (Battlefield 2)
Zombie Panic: Source (Half-Life 2)
Portal: Prelude (Portal)
First Strike (Battlefield 2142)
Zombie Master (Half-Life 2)
Pirates, Vikings and Knights 2 (Half-Life 2)
Eternal Silence (Half-Life 2)
Age of Chivalry (Half-Life 2)
Stargate Empire at War (Starwars Empire at War)
Half-Life 2: Wars (Half-Life 2)
I must say that I'm really happy with the results, it's kind of the best place ever for a little mod like ours that grew up rapidly from nowhere with a really small team but a really big motivation. It wouldn't have been fair to finish first or second regarding the amount of work and devotion put into some of the mods out there. Some of them who recreate everything from scratch and build something during years with sometimes hundreds of people. That's why I'm happy to be third!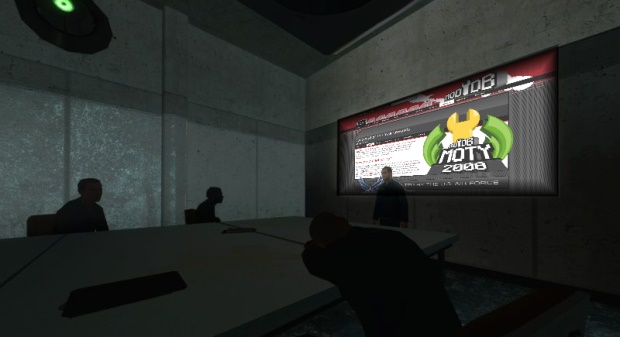 I must say that our little team is quite proud of this result! After all, it proves that even if we crossed a terrific jungle of insults, harsh criticism and mockery, we managed to please the people at which this mod was first aimed: all-time Portal fans, hardcore challenge-looking players and a few of them who thought Portal: Prelude was cool enough to buy Portal once and for all (no joke here, I could cite you some e-mails I received).
Thanks to all our fans, to all the people who helped us and tried to help us in any way (e-mails, voices, forums, scores, bugfix, etc.), and thanks to all the people who sent us feedback via e-mails, comments, discussion boards or our forums. Thanks for the hundreds (maybe thousands) of e-mails to tell us your experience, your disappointements and your best moments. We couldn't reply to everyone (even if I tried to reply to at least 70-80% of them), but I can assure you we read everything.
Check the "meet the team" page to see all the people who really helped us.