Top 100 : Mod of the Year Awards
Posted by Nicolas (permalink)
Surprisingly and contrary to what everyone believed in and around the Portal: Prelude Team, we managed to make our way to the top 100 mods of 2008 for any games. Curiously, our little UFO made its way though 4,863 mods to the top. I must say that I was very surprised, because I didn't even try to publicize ourselves for this event and no one seemed to believe it could be possible to win anything against such badass mods like the ones that got a huge publicity via Steam this year.
What can we say? I guess we should thank all of our fans, and everyone that helped us to build and improve this mod day after day. Now, the second phase of the vote is open and you can vote again for the best mods among the top 100. You can vote on this page, on ModDB.com, just scroll down to "Portal", unfold and click "vote" on Portal: Prelude. Remember that you can still vote for every mod you like!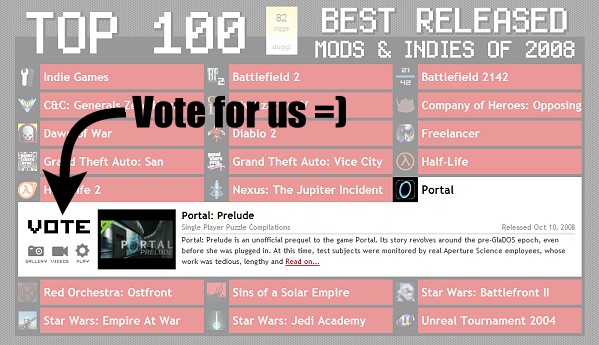 It's also a good occasion to try some of the best mods of the last year!